In the digital era, gossip zips, particularly regarding celebrities' supposed demises. On April 4, 2023, Theafterword.co.uk, Twitter, and snbc13.com hummed with assertions that British musician Chris Farlowe had perished. Gary Sohmers later refuted these claims, attesting to Farlowe's stellar health. His mesmerizing voice persists in enchanting fans worldwide.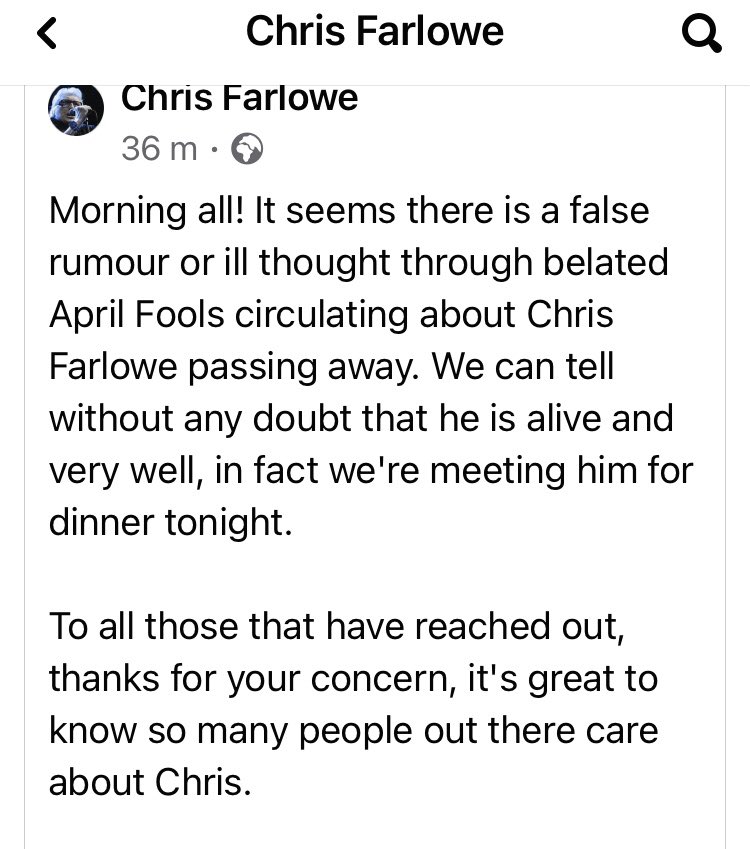 The death hoax entangling Farlowe sowed chaos and dismay among admirers. The unmasking of the deceit brought solace yet irritation about social media's part in propagating falsehoods. David Stark denounced the counterfeit story, highlighting its groundlessness.
This sham underscores the urgency of validating news fidelity before social media dissemination.
Chris Farlowe, born John Henry Deighton in 1940, is a celebrated English rock, blues, and soul vocalist. He rose to prominence with Colosseum and as a solo act in the 1960s, achieving numerous hit singles. His extraordinary voice and spirited stage presence garnered ardent followers and enduring esteem.
Currently, Farlowe engages in "Beasties: A Sci-Fi Rock Opera," devised by Gary Sohmers, the "King of Pop Culture." The opera enlists distinguished singers like Dave Bickler, Barrence Whitfield, and Liz Proteau, displaying Farlowe's artistic breadth and commitment.
Chris sings the role of the villain, Dick T.Raitor in Beasties: A Sci-Fi Rock Opera heading to the stage.  Beasties Rock Opera Act One – Impulse has been released across digital platforms, with Act Two – Hope soon to follow featuring Farlowe's unmistakable tone and vocal prowess.
Career:
Farlowe's journey commenced in the late 1950s, performing with skiffle and jazz ensembles before forming Chris Farlowe and the Thunderbirds in the early 1960s. This rhythm and blues band gained traction on the British club scene, featuring eminent members like guitarist Albert Lee and keyboardist Dave Greenslade.
In 1966, Farlowe inked a deal with Immediate Records, founded by Rolling Stones manager Andrew Loog Oldham. His first single, a rendition of the Rolling Stones' "Out of Time," conquered the UK charts. Other triumphant singles include "Think," "Handbags and Gladrags," and "Ride on Baby."
In the late 1960s, Farlowe joined Colosseum, lending vocals to "Daughter of Time" (1970) and "Bread and Circuses" (2021). The band's rock, jazz, and blues amalgamation earned critical praise and a committed fan base. Colosseum disbanded in 1971 but reunited in the 1990s with Farlowe as an active member.
Farlowe has also performed and recorded solo, releasing a plethora of albums spanning blues, soul, and rock. His eclectic musical prowess and adaptability have underpinned his lasting success.
Legacy thus far:
Chris Farlowe's distinct voice and dynamic presence cemented him as a crucial icon in British music. Teaming with eclectic musicians, he ceaselessly performs solo or with Colosseum. Farlowe's ardent displays and vast musical skills leave an enduring imprint on rock, blues, and soul.
Farlowe's journey boasts myriad triumphs, including 1966's top-charting UK single "Out of Time," crafted by Mick Jagger and Keith Richards. He allied with bands like Atomic Rooster, the Thunderbirds, and Colosseum. An avid collector, Farlowe zealously accumulates military relics.
In 2023, Farlowe partook in "Beasties: A Sci-Fi Rock Opera," conceived by Gary Sohmers. The rock opera spotlighted esteemed singers such as Dave Bickler, Barrence Whitfield, and Liz Proteau. Farlowe's participation exhibited his adaptability and dedication to his art.
Fans and peers persist in lauding Farlowe's oeuvre. His ability to oscillate between musical styles while preserving his singular vocal flair underlines his immense talent and versatility.
In this epoch of rampant disinformation, the recent death hoax surrounding Chris Farlowe is a stark reminder of the importance of verifying data before spreading it on social media platforms. While the hoax distressed fans, it also accentuated the iconic musician's ongoing relevance and influence.
The fabricated news of Chris Farlowe's death has been discredited, and the musician thrives, is healthy, and is immersed in diverse projects. As his career evolves and broadens, Farlowe's contributions to music will undoubtedly be celebrated for their passion, skill, and enduring impact on generations of fans and musicians alike.
Listen to Beasties: A Sci-Fi Rock Opera here:
https://www.youtube.com/@beastiesrockopera
https://open.spotify.com/album/1ncojsWmb7Hvzgt0Bk2R1G
Buy your own copy of Beasties: A Sci-Fi Rock Opera here:
https://www.amazon.com/dp/B0BT1N689P/ (kindle, audio book, paperback)
https://www.audible.com/pd/Book-of-Gr-Beasties-Audiobook/B0BZQMSQ1Q (audio book on Audible)